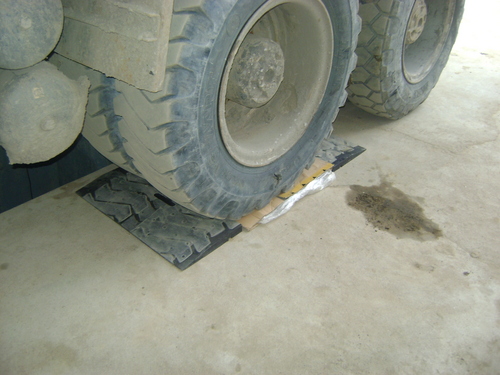 Weighing Pad
Product Description
Since the year 1996, we are holding our credibility in the domain of manufacturing and exporting a wide range of Weighing Pad. These pads can be easily fixed on any surface to weigh the load on trucks. These pads are widely used for checking the axle weight of the truck. Made from excellent quality of materials, the entire stock of Weighing Pad is available in different specifications.
Features & Advantages Area:

Entails cost-effectiveness due to plug and use design
Utmost measuring capacity of 1 to 40 tons per axle
No requirement of any civil foundation
Built-in ramps for low profile design
Suitable for use as a cross checker during weighing operations
Multiple choice of signal outputs as mV/V, mA and V
Ease in dynamic weighing owing to optional leveling clue
Availability of pad up to twenty tons capacities
Light in weight for convenience in transportation
Manufactured using topnotch quality lightweight backbone aluminum
Integrated 25kg design for ease in moving
Extra-wide weighing surface and actual low contour (only 0.7" high)
Compact design with twenty absolute micro load cells in every pad
Technical Specifications:
Width: 24", Section Weight: 20lbs and Thickness: 3/4"
Fit Style: Interlock Puzzle
Material: High density plastic/rubber compound
Temperature Range: -40 deg C to +55 deg C
Output: 0.6 to 1.0 mV/V.
Excitation: 5 to 24 VDC.
Stability: 0.5% full scale/year.
Overload Capacity: 200% full scale.
Material: High strength aluminum alloy.
Ground level Requirement: <5mm within 0-4m.
Static Accuracy: 0.25% full scale or better.
Operating Temperature range: 10 to +55 deg C.
Input/Output Resistance: 560 ohms +/- 50 ohms.
Weight: 52 lbs including ramps, 42 lbs without ramps.
Rated capacity: up to 20 ton per pad @ 20 lb graduations.
Dynamic Accuracy: +/- 3% of full scale without leveling track.
Dynamic Accuracy: +/- 1% of full scale with leveling track (See Weigh in Motion).