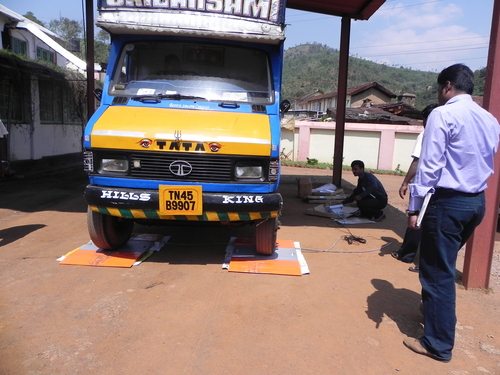 Ultraslim Weighpad
Product Description
Owing to our expertise in this domain, we are offering our clients a wide range of Ultraslim Weighpad. Our product range is manufactured from high grade raw material that is sourced from the certified vendors of the industry. Each pad of these products is fed into a different channel, allowing individual calibration for each pad. These Ultraslim Weighpad products comprise a portable data case and rechargeable battery, dot matrix roll printer, and LCD digital readout. Our product range is factory calibrated and is ready to use. Offered products can be installed by a single individual in minutes and is very easy to use and transport.
Features & Advantages Area:

Low priced weight pad for plug and use
1 to 40 tons weighing range of each axle
No need of any civil foundation for usability
Low profile based weight pad with in-built ramps
Compatible for using as cross weigh checker
Multiple choices of signal outputs like mV/V, mA and V
Can be used for dynamic weighing with leveling clue (Optional)
Available up to the pad up capacity of twenty tons
Light in weight for convenience in transportation
Specifically machined from lightweight backbone aluminum
Less than 25kg weight for attaining ease in shifting
Broad weighing surface and low contour profile (only 0.7" high)
Equipped with twenty absolute micro loadcells in every pad
Technical Specifications:
Width: 24", Section Weight: 20lbs and Thickness: 3/4"
Fit Style: Interlock Puzzle
Material: High density plastic/rubber compound
Temperature Range: -40 deg C to +55 deg C
Output: 0.6 to 1.0 mV/V.
Excitation: 5 to 24 VDC.
Stability: 0.5% full scale/year.
Overload Capacity: 200% full scale.
Material: High strength aluminum alloy.
Ground level Requirement: <5mm within 0-4m.
Static Accuracy: 0.25% full scale or better.
Operating Temperature range: 10 to +55 deg C.
Input/Output Resistance: 560 ohms +/- 50 ohms.
Weight: 52 lbs including ramps, 42 lbs without ramps.
Rated capacity: up to 20 ton per pad @ 20 lb graduations.
Dynamic Accuracy: +/- 3% of full scale without leveling track.
Dynamic Accuracy: +/- 1% of full scale with leveling track (See Weigh in Motion).