Rail In Motion Weighing System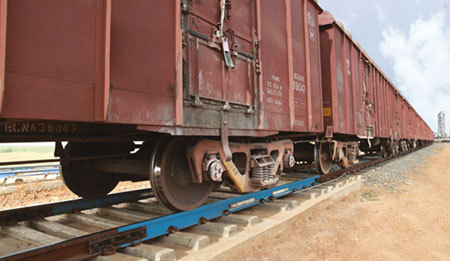 Rail In Motion Weighing System
Product Description
Backed by our two decades of experience in manufacturing, supplying and exporting quality Rail Weigh in Motion, we have marked a distinct position in the industry. These are used in weighing which is crucial in cost control and avoiding overloading penalties. We manufacture these weighing machines under the guidance our intelligent team at our state-of-the-art production facility. Our quality teams see to it that these weighing machines are defect free by checking on various parameters of quality. Furthermore, our Rail Weigh in Motions are available in various technical specifications and at reasonable prices.
Further details of Rail Weigh in Motion:
ERIM is a tailor-made Rail Weigh in Motions used for trading applications which can be installed, made functional in hours and is RDSO approved. Our knowledgeable team are engaged in developing solutions for every rail user, from end users to raw material producers and infrastructure developers. ERIM provides accurate data on the weights of trains and wagons, which can be linked with your business systems via Computer, networks and internet. This helps you in monitoring the deliveries to customers or from suppliers as reports are linked to individual wagons, destinations and loads. System helps in monitoring imbalanced loads by automatically detecting wheel, axle, wagon overloads, therefore avoiding multiple times weighing of the same vehicle, thus avoiding overloading penalties and ensuring safety. Dynamic weighing systems are designed for calculating the weight of the loaded railway wagons upto the speed of 15 kmph. It uses the quad sensor full bridge techniques which are a part of load cell sensor technology. Strain gauges that are being used are imported from the world leader in strain gauge technology. Accuracy, reliability and consistent performance areassured as these modular electronics are Micro-processor based. Prints outs for rail weightment and reports of MIS can be generated with the software.
Key Features of Rail In Motion Weighing System:
Give accurate reading of the weight
Clients acknowledge these for their long operational life
Have rugged design and known for negligible maintenance
Corrosion resistance is one of its striking feature
Hugely demanded for its ability to work under all weather conditions
All types of 4axle/2axle Wagon Weighment
RS232 / RS485 / Modern /LAN / Communication
Over speed indication Audio/Visual/Print out
Report generation Rake wise, Daily, Periodically
Hermetically closed microburst axle amount beef / Embedded Rail Mounted Strain barometer Sensors
Advantages of Rail In Motion Weighing System:
Compliant to OIML standards.
Accuracy of bigger than 0.25% for abounding train.
Suitable for industrial applications such as petrochemicals, extraction, cement, ores, steel, recycling & ports.
Precise weight data reports can be interfaced with your clients business systems via PCs, Ethernet, Internet.
Product details
| | |
| --- | --- |
| Communication Channel | RS232 / RS485 / Modern /LAN |
| Type | Computerized |
| Technology | load cell sensor technology |
| Report generation | Rake wise, Daily, Periodically |
| Rail Speed | 15 kmph |
| Design type | Pitless |