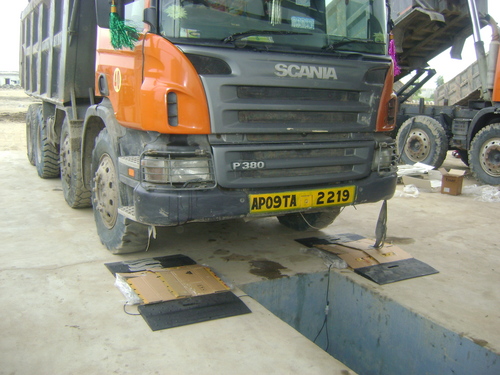 Precision Weigh Pad
Product Description
By keeping track with the latest market developments, we are providing a wide range of Precision Weigh Pad. These products are specially designed for the weighing industry for providing hundreds of hours of operation. Our Precision Weigh Pad product range is provided with 3 AA batteries power and the weight is displayed on a highly visible LCD screen with 5 digits.
Features & Advantages Area:

Plug and use design for cost-effective weighing
Available in a capacity of 1 to 40 tons per axle
Does not need civil foundations for weighing
Low profile based in-built ramps
Well-suited for using as cross checker in weighing applications
(mV/V; mA; V) signal outputs for user convenience
Suitable for use in dynamic weighing application due to optional leveling clue
Provided in a capacity of up to twenty tons per pad
Easy to transport due to light-weight nature
Designed by utilizing light weighted backbone aluminum
Less than 25 Kg weight for simple shifting
Ample weighing surface and actual low contour (only 0.7" high)
Designed with twenty absolute micro load cells in each pad
Specifications:

Width: 24", Section Weight: 20lbs and Thickness: 3/4"
Fit Style: Interlock Puzzle
Material: High density plastic/rubber compound
Temperature Range: -40 deg C to +55 deg C
Output: 0.6 to 1.0 mV/V.
Excitation: 5 to 24 VDC.
Stability: 0.5% full scale/year.
Overload Capacity: 200% full scale.
Material: High strength aluminum alloy.
Ground level Requirement: <5mm within 0-4m.
Static Accuracy: 0.25% full scale or better.
Operating Temperature range: 10 to +55 deg C.
Input/Output Resistance: 560 ohms +/- 50 ohms.
Weight: 52 lbs including ramps, 42 lbs without ramps.
Rated capacity: up to 20 ton per pad @ 20 lb graduations.
Dynamic Accuracy: +/- 3% of full scale without leveling track.
Dynamic Accuracy: +/- 1% of full scale with leveling track (See Weigh in Motion).