Computerized Weighbridge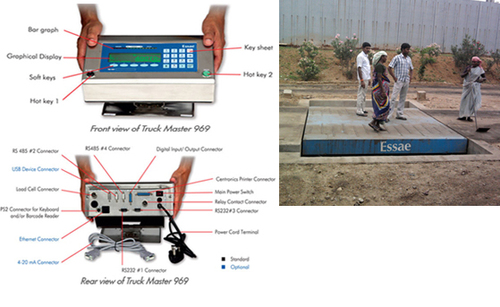 Computerized Weighbridge
Product Description
With the help of our well-trained professionals, our firm has been able to manufacture, supply and export Computerized Weighbridge. It is manufactured using high-grade raw materials incorporating latest technology to ensure its quality. Offered bridge is suitable for measuring the weight of loaded or unloaded trucks and other means of transportation. We conduct different quality checks on our Computerized Weighbridge so that potential flaws can be easily eradicated and quality as per the industry laid norms can be assured.
Salient features of Computerized Weighbridge:
High operational accuracy
High efficiency, Reliable operations
The modular design is Orthogonally Isotropic & Innovative
Ownership Offered at very low cost'
Using NASTRAN & FEA - ANSYS it is Designed
It is specially designed for CLC concentrated bearing load capacity of 20tons per axle
Used high Tensile steel of 410MPa l compared to 250MPa Mild Steel for Fabrication
Fully welded modules using High Tensile welding wires
Offering rigidity to platform the modular Concept offers mobility and extension platform
Shorter ramps are required for sleek design
Ensures highly durable compared with conventional model/structures
For Pit-less model designs it is also available
Ease of operation is offered through TM 987 indicators
Below mentioned is the technology used for ensuring high reliability with accuracy of measurement system.
Prime Locations in India:-
Ahmedabad
Pune
Ludhiana,
Bhuvaneshwar
Delhi
Cochin
Chennai
Mumbai
Double ended shear beam load cells
The load cell assures long life due to its compact, simple design and rugged hermetically sealed construction. The advanced tension link mounting arrangement ensures reliability to weight measurement, smooth performance of the load cell & high accuracy.
| | |
| --- | --- |
| Model | TM-969 |
| Size of the Platform | 7.5m x 3m, 9m x 3m, 12m x 3m, 16m x 3m, 18m x 3m |
| Capacity (tons) | 40, 50, 60, 100, 120, 150 |
| Interval (kg) | 5, 10, 20 |
| Type of load cell | Double Ended Shear Beam With IP 68 protection |
| Accuracy | As per OIML R-76, Class III - Medium |
| Non Linearity & Repeatability | 0.05% |
| Type of Platform | Steel Based & Concrete Based |
| Cables used | 4 core shielded with SS Armor protection |
| Out Door Display (optional) | 25-100mm Seven segment RED LED |
ESPD-30 (Weighing System Surge Protection Device)
This Protect the load cells from transient surges caused due to lightening
Without maintenance repeated auto re-setting operation
Through high surge absorption capacity there is reliable protection
System accuracy remaine unaffected
TM-969 (Truck Master 969)
Electronic weight indicator makes work cheaper, faster & simpler and its user-friendly.
Without connecting to PC the standalone operation is possible
An effective truck data management as over 20,000 records can be processed, stored & retrieved
Bar graph & Graphical Display, Soft keys, Hot key 1, Hot key 2 & Key sheet
Ethernet & networking interface (RS232, RS485)
For faster data entry we have standard alphanumeric keypad
It can be connected directly to the printer
PS2 keyboard connectivity is optional
Attractive Stainless Steel enclosure
WeighSoft
Supports MY SQL, MS-SQL, POSTGRE SQL ORACLE, SYBASE
Ticket transactions can be done online and single point
Data fields can be defined by the user which are to be captured for the ticket
The system allow the entry of Supplier, Vehicle, Material, and shift details
Formula fields can be created by user
Reports can be viewed based on specific queries
For different levels of users the security mechanism is well-defined
Web Camera Integrated
Compatible of SAP/ERP.