Weigh in Motion System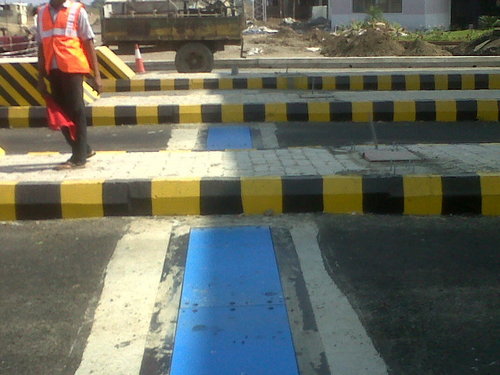 Weigh in Motion System
Product Description
Committed to quality, we are indulged in offering Weigh In Motion System to the clients that is specially suited for designing, monitoring and research applications. This device is ideal for recording the axle as well as gross vehicle weights at the areas where it is installed. The provided device is manufactured with high level of precision by utilizing quality-tested basic materials and cutting-edge techniques as per international standards. Furthermore, we are offering this Weigh In Motion System to the clients in various technical specifications at negotiable costs.
Key Features of Weigh in Motion System:
Ideal for recording weight data at low as well as high speeds
Open platform based automated and modular device
Compatible with different kinds of equipments and computers
High precision weight measurement during multi-lane operations
Further Details of Weigh in Motion System:
Weigh in motion system is an effective solution for an assortment of low and high speed weigh in motion (LS/HS-WIM) utilization as stated by global standards. It records and maintains weights of axles, vehicles (gross) and wheels passing above weighing sensors inserted in road walkway. Every measurements are done at usual traffic paces, so an intact transport weighing can be executed unaccompanied by any traffic circulation disturbances.
Additional Features of Weigh in Motion System:
Our weigh in motion systems are designed for genuine multi-path dual-directional free circulation measurement and confirms the precision of each measured grounds of the transport in both road ways as well as when driving through road lanes.
The precision od weighing can be minored bye non-quality vehicle behavious (deceleration, shoulder driving, acceleration, lane traversing, etc.) or various other impacts (poor road or vehicle situations, unever load distribution, etc.). Just to confirm whether the computed values are in the elucidated precise class, the apparatus offers modern measurement creditbility evalution.
Our system can be amalgamated with several other ITS systems like section/spot imposistion systems, vehicle search, dimension in-motion, etc.
Technical Details:
| | | |
| --- | --- | --- |
| Platform Size | Capacity | Number of Load Cells |
| 6 x 3 m | 30t | 4 |
| 7.5 x 3 m | 30t/40t/50t | 4 |
| 8 x 3 m | 30t/40t/50t/60t | 4 |
| 9 x 3 m | 40t/50t/60t | 4/6 |
| 10 x 3 m | 50t/60t | 4/6 |
| 12 x 3 m | 50t/60t/80t | 4 |
| 14 x 3 m | 50t/60t/80t/100t | 6 |
| 15 x 3 m | 50t/60t/80t/100t | 6 |
| 16 x 3 m | 50t/60t/80t/100t | 6/8 |
| 18 x 3 m | 50t/60t/80t/100t | 8 |
| 20 x 3 m | 80t/100t | 8/10 |