Truck Weighing System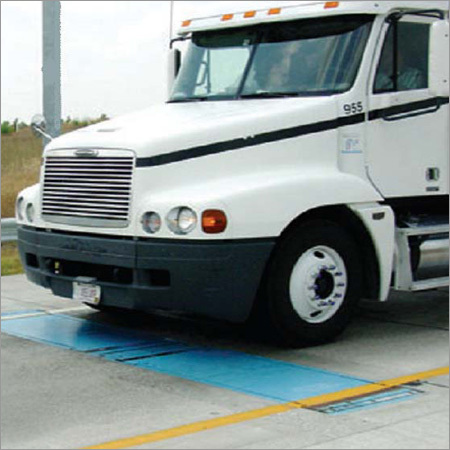 Truck Weighing System
Product Description
Our expertise lies in manufacturing, exporting and supplying a wide range of Truck Weighing System. Furthermore, with the assistance of our state-of-the-art manufacturing unit, we develop our offered range using sophisticated tools and equipment that assure its dimensional accuracy. Offered Truck Weighing System products are highly valued among clients for their high quality, durability and low maintenance. Furthermore, we are offering our offered range as per the varied specifications of clients.
Key Features of Truck Weighing System:
Ideal for all make and models of trucks
High sensitive weight sensors for accurate weight measurement
Compatible for computer interface due to PC software
Provided as portable and permanent weigh in motion with same basic components
Applications of Truck Weighing System:
Industries
Raw material
Mines
Production and dispatch
Check post
Overboard and enforcement
Private weigh bridge
Commercial weighing
Refineries
Filling and dispatch
Functions of Truck Weighing System:
Fully electronic
Fully automatic
Reports generation
Weighment slip and billing
Truck memory storage
Further Details:
Our truck weighing system is available in electromechanical or full-electronic and hydraulic kinds with either steel or concrete platforms. Whereas, low profile units provide easy fabrication with nominal foundation needs while pit sort fabrications are often the prime pick for usage in critical climates or when grain is to be released from the truck onto a transporter attached under the scale platform. The multi-platform units are utilized at the same time measure the axle weight of the truck while acquiring its complete weight as well. Tuck weighing apparatus hindering maintenance, service and calibration is also obtainable.
Our truck weighing system includes various specification with distinctive choice to enhance their utility for both driver and operator. Choices comprise truck administration software, remote displays, video surveillance, power conditioning, traffic lights and so on.
The range, which we are offering are consider as an ideal equipment for any mobile transport weighing usages. It is light in weight, which helps ease in picking up and move.
Due to its dependability, accuracy and portability, our product is used in cargo & hefty equipment weighing, military deployment, commercial truck weighing, law enforcement and industrial utilization.
Some of the salient attributes:
The easy vernier weighing system dial is distinctly market for optimum visibility.
Free from almost practically and indestructible maintenance.
It requires no electronics or battery to perform operations in any unconventional and rough surrounding and unbalanced surfaced like gravel, cement, off-level surfaces, dirt and tar.
Non skip bottom and ramp offer exit and entry of the scale in a simple manner.
Due to its light weight, it is simple to setup by using particular designed pliable scale handles.
Yields repeatable and remarkable accuracy.
It is temperature compensated in any severe climatic situations as each critical portions are sealed and included in dust-proof enclosure.
Technical Specification
| | |
| --- | --- |
| Capacity | 120 tons |
| Accuracy of weighing | 1% to 2% of the gross weight |
| Platform size | 845 mm 3275 mm (Outer Dimension) |
| Type of In-Motion Scale | Load cell based permanent In-motion scale |
| Type of Installation | Pit Type |
| Speed of weighing | 0 KMPH to 15 KMPH |
| Type of Recording | Automatic, Un-manned Recording |
| Direction of weighing | One Direction |
| Cables | 4 core shielded with SS Armor protection |
| Operating Temp. & Humidity | -5C to +60C and 95% RH |
| Power Supply | AC single Phase 230V, 50 HZ |
| Type of Reports | Date, Time, Location, Weight & Speed of the vehicle |
| Material of the Platform | Mild Steel IS 2062 painted with epoxy & enamel paints. |
| Life of the Machine | 8 to 15 yrs. |
| Optional | Can also be connected to Camera for recording to weight along with photograph of the vehicle. |
| Hardware Specifications | PC Requirements for LPE camera & Software Windows XP SP3 Operating System, Intel Core2Duo processor with 2.8GHz or faster, minimum 2GB RAM, with Ethernet |