Truck In Motion Scale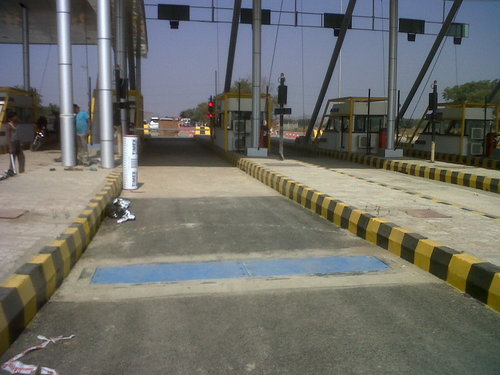 Truck In Motion Scale
Product Description
We, the distinguished entity in the industry of weighing equipments, are known to be the leading manufacturer and exporter of the Truck In Motion Scale. These scales can easily weight the truck when in motion. Integrated with latest technology, these motion scales are available in different capacities to choose from. Our clients can easily get these scales from us at the industry leading prices. Manufactured from supreme quality of metals and components, the entire range of Truck In Motion Scale is in strict confirmation with the international standards
Further Details:
As acknowledge tear and wear of roads are determined by the vehicle weight. Toll authorities uses our range, which is based on weigh-in-motion advancement to judge the precise roll categorization while maintaining the traffic moving.
We are providing our truck in motion scale, which has sturdy structure that prominently enhances scale reliability in heft-duty activity. It also facilitates to record accurate setting into the road in the course of installation, which also reduces the cost involved. The weighbridge is linked to the signals horn and traffic lights to regulate vehicle movement. We can also deliver video camera for transport detection and transport picture capturing to the customers as per their demand.
Close Coupled Axles :
The platform is particularly designed to have all collections of axles such as tandem, single and triple, which are simply weighed as electronic can determine the weights of each axle distinctively. Close joined axles with air suspension or spring cause no trouble to the weighbridge that will yield respective axles of up to 30 Ton each.
Features of Truck In Motion Scale:
Immediate inspection for road legal load.
Completely unmanned weighing operation.
Weighs numerous vehicles per day.
Daily recorded information computes the vehicle productivity.
Mechanical information of images and weight of vehicle.
Axle weight, number of axles and gross weight can be recorded.
Recorded information can be stored for future or can be sent through internet to the server.
Technically advanced
Ability to weigh heavy load
Integrated with accurate sensors
An ambit of computer software and indicators is obtainable for EAGLE axle, which permit authorities to select the optimum apparatus for their imposition requirements. The axle is specially suitable where accordance with legislation is essential as excessive speed weights are mechanically spotted so that transports cannot be given with wrong weighing tickets. The policy is to create only superior quality items by integrating modern advancements. Special focus is placed in the durability and reliability of the product, so that the company undertakes its own patterns and produce to keep the important level of the quality regulation.
Product details
| | |
| --- | --- |
| Life | 8 to 15 yrs |
| Brand | Essae |
| Weighing Capacity | 300 Kg |
| Type of Installation | Pit Type |
| Type | Electronic |
| Platform size | 845 mm X 3275 mm (Outer Dimension) |
| Material | Mild Steel |