Rail Weighbridges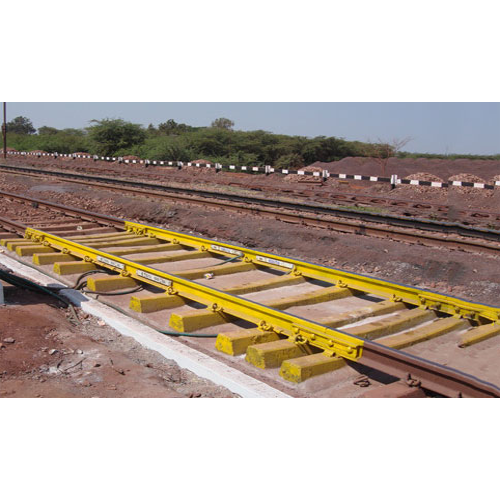 Rail Weighbridges
Product Description
Utilizing our resources and techniques, we are manufacturing and exporting a high end quality range of Rail Weighbridges. These weighbridges are installed on the railway tracks to weigh the load on the train. We make use of only certified quality of sensors and components to engineer these weighbridges. Available in different technical specifications, these Rail Weighbridges are offered to the clients at cost effective prices. Before the final dispatch, all these weighing equipments are tested on varied quality norms.
Key Features of Rail Weighbridges
Accurate weighing sensors
Easy to install
Can bear heavy load
Rollback detection
Low Installation cost
Auto/Manual Operation
Bi-directional Weighing
Proximity Track Switches
All types of Loco Elimination
Pitless design minimal excavation
OIML Standards with Model Approved
High Precision Weighing electronics
All types of 4axle/2axle Wagon Weighment
RS232 / RS485 / Modern /LAN / Communication
Over speed indication Audio/Visual/Print out
Report generation Rake wise, Daily, Periodically
Advantages of Rail Weighbridges:
Compliant to OIML standards.
Accuracy of bigger than 0.25% for abounding train.
Suitable for industrial applications such as petrochemicals, extraction, cement, ores, steel, recycling & ports.
Precise weight data reports can be interfaced with your clients business systems via PCs, Ethernet, Internet.
Technical Specifications:
| | |
| --- | --- |
| Weigh Sensors | Hermetically sealed shear beam load cells / Embedded Rail Mounted Strain gauge Sensors |
| Design | Pitless Type |
| Capacity | 100MT / 150MT for Standard wagons upto 700 MT for Hot Metal Laddles and Torpedo Cars |
| Resolution | 10Kg / 20Kg / 50Kg / 100Kg Selectable |
| Calibration | Digital calibration for Tare, Zero, Gain, Auto Zero and Auto gain Check |
| Accuracy | +/_0.5% for Individual Wagon |
| Platform | +/_0.2% for Unit Train |
| Weigh Bridge | Suitable for 52Kg / 60Kg Track Grade Rails Length 4 Mtr |
| Weighing Speed | upto 15Kmph Non Weighing upto 40 Kmph/as limiter by railways |
| Track Switches | Double Arm Reed Proximity / Optical Proximity |
| Wagon ID | All Types of 4axle / 2axle |
| Loco Elimination | All types Diesel / Electric Locos |
| Direction | Bi directional Weighment |
| Electronics | Microprocessors based very High Speed Signal Processing |
| Interface | Through RS232 / RS485 / LAN / MODEM |
| Printout | Rake wise, Monthly and Periodical reports |
| Computer | IBM Compatible Pentium / Celeron PC |
| Software | Windows based with Visual Basic and Access |
Standard Static Configuration
| | |
| --- | --- |
| Rail type | 115 lb AREA (consult factory for others sizes) |
| Rail length | 70"(1.78 m) |
| Active weighing length per section | 8"(20 cm) |
| Mounting | Direct to existing ties and ballast |
| Type of weighing | Two draft or full draft |
| Number of Weighline sections | Two draft - four, Full draft - eight |
| Maximum axle load | 80,000 lb(40,000 kg) |
| Maximum car weight | 320,000 lb(160,000 kg) |
| Scale division size | 100 lb (50 kg), switchable to 20 lb (10 kg) for calibration |
| Full draft | +0.25% or + 200 lb (100 kg), whichever is greater |
| Two draft | + 0.4 %or + 300 lb (150 kg), whichever is greater |
| Instrumentation | Avery Weigh-Tronix Model 1310 Indicator with weighline program |
| Operating temperature range | -20oF to 120oF (-28oC to 49oC) |
| Temperature compensation | span and zero |
| Weight | 230 lb (105 kg) per rail assembly |
| Rail type | 115 lb AREA (consult factory for others sizes) |
In-Motion Low-Speed Systems

Speed

Accuracy

Rail Sections

Instrumentation

Wheel Detectors

Maximum 5mph (8 km/h)

0.5% or +400 lb, whichever is greater

Four

Model 1310 Indicator/Controller up to 1 mph. MS 3000 Controller up to 5 mph

Two, non-contacting proximity switches
In-Motion Medium & High-Speed Systems

Multiple Weighline sections welded into position.

Speeds

Up to 35 mph (56 km/h)

Instrumentation

High speed, full feature, in-motion controller

Consultancy for specific applications