Portable Weighbridge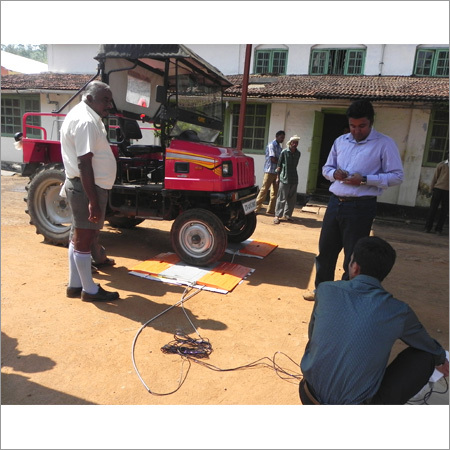 Portable Weighbridge
Product Description
Owing to our expertise in this field, we are offering our clients a wide range of Portable Weighbridge. These Weigh Bridge are designed with high precision in order to meet all international quality standards. These Portable Weighbridge are highly appreciated among clients for their sturdy construction, dimensional accuracy and longer service life. The offered pads can be availed by clients from us in various specifications as per the varied demands of clients.
Further Detail:
Uptime and accuracy are paramount importance to our customers. No other weighbridge manufacturer has processes in design, manufacture,testing and service that can better Essaes.
100 percent quality, 200 percent security. Before delivery we assemble every weighbridge and put it through stringent check for accuracy and workability.
Utilization of Protective covering, NDT testing, plasma cutting, Shot impacting, MIG welding, Epoxy completing help in making additional nature of compact weighbridges without a doubt.
The calibration and testing for each system is carried out. The weighbridge is not set up at the customer site unless we are completely satisfied with the test results.
Key Features of Portable Weighbridge:
Capacity approx 50 tons /Axle
Weigh approx 99 scales
Weigh trucks approx 120 tons
Each axle weighed independently
The sum total of all axle weighed is G.V.W.
Very low cost on Civil work
Accuracy more than 0.1%
Applications of Portable Weighbridge:
Usage in Construction Industry
Advantage of Portable Weighbridges:
Traffic light signaling available
Static and Dynamic weighing
Tare restoring facilityment
Further Details:
We are offering portable weighbridge, which is beneficial for industries including quarries, mining and construction, where there is requirement to shift the weighbridge from one place to another.
Ordinary weighbridge has large platform weight and civil foundation costs that makes the transportation from one place to another quiet expensive. The time consumption for re-commissioning and dismantling convectional weigh bridges, is vast and therefore enhances the cost of shifting.
Our system is platform developed, affixed on sequence of weight cells that are specially designed to keep the profile of platform as low as feasible. These cells are linked with one another in a completely molded junction box that houses the rush protection circuit in order to secure the weigh bridge against lightening and various allied electrical surges.
The software that we have included in our portable weighbridge is user friendly module. It provides the essential MIS information regarding commodity, gross weight, net weight, vehicle number, etc. as well as renders summary data that can be choose by the operator on the basis of aforesaid information.
Our range is extensively secure with an amalgamation of password and hardware lock. Besides, each operators can easily log in through his user name and password, which enables an easy tab on operators.
The highlights of portable weigh bridge
1. Complete extent is less than 1 feet.
2. Self controlled structure.
3. Hefty duty patterned deck plate.
4. Nominal installing cost.
5. Standard in construction that helps in simple transportation.
Salient Features of Portable Weighbridg
Demands low or less maintenance.
Security to integrated lightning.
Ensure optimum level of steady calibration and performance as load cells are scale-cut to the final micro-volt.
Dust, water and allied elements have no impact on the functionality as it is secured to IP-68.
Load cells are field proven and tested.
Elevated security is provided and thus completely tamper-proof.
Support handled and fabrication by expert crew is available.
Key Specifications:
Platform Capacity

Permitted overload

Field Accuracy

Temperature range

Degree of Protection

Indicator Unit

Power supply

Software

50 Tons

0-50 tones per axle in 20 kg divisions

Alternate ranges available

Load totaling up to 99 axles

50%

Plus or minus 0.1% of applied load

-10 to + 60 oC

IP 68

Bench mounting
Exterior column mounting

240V single phase AC, 50 Hz

Additional software can be included to meet specific Operational requirement