Electronic Truck Scales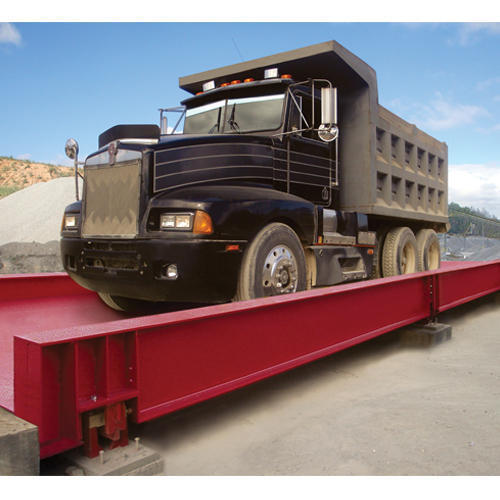 Electronic Truck Scales
Product Description
Since our inception in 1996, we have marked a distinct position in the industry as a leading manufacturer, supplier and exporter of quality Electronic Truck Scales. These are mounted on the road or a concrete foundation and are used in weighing entire vehicle with its contents. After weighing the vehicle both empty and when loaded, load carried by the vehicle is calculated. Our scales are manufactured using superior grade materials at our state of the art machining facility. Moreover, our Truck Scales are available in various technical specification as per our clients' requirements and at pocket friendly prices.
Further Detail:
"Our innovative weighing systems offer greater reliability, higher strength and faster installation than conventional systems. They have fast & bolt-down sitting along with innovative box structure that made them perfect for the weighing applications."
Essae Digitronics caters to the needs of weighing in India. The factory layout is especially designed for the mass manufacture of Electronic Truck Scales, which ensures highly repeatable quality standards. Over the last 15 years, Essae has finely harnessed the quality management process to ensure and assure best practices from sourcing to finishing of truck scales.100 men are taking the heat everyday to ensure Essae Quality. We can produce up to 150 Truck Scales per month. The range include
Load capacity- 10 tons to 150 tons
Platform size- 2mx2m to 25mx6m
With in excess of 4000 establishments the nation over we can give master guidance on the ideal kind of weighbridge to suit your site conditions and meet your operational objectives
Special Attractions of Electronic Truck Scales:
Due to its longer working life its widely popular
Known for negligible maintenance and has sturdy structure
Calculates the weight accurately
These are easy to install
Being an ISO 9001 certified, our products are known for high quality
Flexible, Accurate and Mobile
Easily Adjustable Platforms to Suit Different Carriers
Low Profile with Built-in Ramp
Easy Setup, Connect and Weigh
Approved by Weights & Measures Department
Without Civil Foundation
Low Cost Solution
Other Products & Services
Essae Digitronics is focused on delivering quality weighing solutions. We accomplish this through consistent improvement and innovation for our products & services that meet all requirements of the customers. Our customer-oriented offerings include :
Platinum & Gold Service Contracts
Innovative Digital Solutions and more
The new Essae FLEXI Mobile weighbridge comes in two variables:
Double Axle Variant
Three Axle Variant
Customized FLEXI Mobile weighbridge are also offered; this provides you a flexibility to select your weighbridge based on the vehicles, your industry and other requirements.
Lightening Protector
Safeguard load cells against transient surges caused by lightening
Excellent protection through high surge absorption capacity
Repeated auto re-setting operation
Negligible maintenance
No effect on the accuracy system
WeighSoft Enterprise Application :
Supports ORACLE, SYBASE, MY SQL, POSTGRE SQL
Online, Offline and Single Point ticket transactions
Allows entry of Supplier, Material, Vehicle and shift details
User can create formula fields
User can specify data fields to be captured for the ticket
View reports as per specific queries
Complete security mechanism for different levels of users
Compatible to ERP/SAP
Web Camera Integration
Electronic Weight Indicator TM - 960 :
Restore function for factory calibration
Achievable standalone operations without connecting to PC
RS485, RS232, Ethernet and Networking Interface
Effective truck data management, as over 20,000 records can be stored, processed and retrieved.
Faster data entry with standard alphanumeric keypad
Directly connected to the printer
Attractive Stainless Steel enclosure
Optional PS2 keyboard connectivity
We have a sound capability to produce up to 150 Truck Scales per month. Essae Track Scales are available in 10 - 150 ton capacities and 2m x 2m to 25m x 6m platform sizes. The machine platform is engineered to withstand adverse environmental conditions. We have installed latest machines for quality-oriented manufacturing process. Also, the production system ensures focus on the performance of the products along with quick response to customers' needs. With more than 4000 installations across the nation, we are able to provide expert advice on various types of weighbridge to meet your site conditions as well as operational goals.
Product details
| | |
| --- | --- |
| Model | ESSAE 32 |
| Brand | Essae |
| Material | Mild Steel |
| Weighing Capacity | 10 to 150 ton |
| Type | Electronic |
| Platform Size | 2mX2m to 25 m X 6m |
| No of Axle | 2 Axle/3 Axle |