Digital Track Weighbridge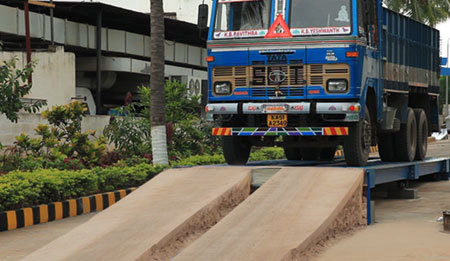 Digital Track Weighbridge
Product Description
Clients can avail from us the best quality Track Weigh Bridge that is suitable for determining extreme weights with greater accuracy. This weigh bridge is extensively demanded for the appropriate measurement of road or transport vehicles along with their contents. Manufactured using pristine quality components and progressive techniques, the provided weigh bridge is widely demanded in industries and commercial weighing centers. Additionally, we are offering this Track Weigh Bridge to the clients at reasonable costs.
You can choose either a Pit Mounted Truck Scale or Surface Mounted depending on the availability of space. The platform of the truck scale is designed in such a manner to withstand harsh environmental conditions.
Advance machines have been deployed to ensure that quality should be built into the manufacturing process. The production system focus to the performance of the product and faster revert to customer's queries or needs.
Key Features of Track Weighbridge:
Reliable and Accurate
Rugged
Robust & compact weighbridge
Easy to install & transport from one place to other
Less civil work required
Less height of the track scale than the regular static weighbridge
Less maintenance required
Superior quality steel used which ensures better sectional efficiency and load bearing capacity
Use of Epoxy Finishing, Protective Coating, Shot Blasting, NDT Testing, MIG Welding, Plasma Cutting help in creating quality weighbridges every time
The testing and calibration for each system is carried out prior to delivery
Track Weigh Bridge Specifications:
Finish: Epoxy Finishing, Protective Coating, Shot Blasting, NDT Testing, MIG Welding, Plasma Cutting
Material: Superior quality steel
Weighing Capacity: 10 to 150 ton
Type: Electronic, Manual, Computerized, Digital
WB Type: Concrete Pit Mounted Truck Scale or Surface Mounted
Life: 8 to 15 yrs