Concrete Weighbridge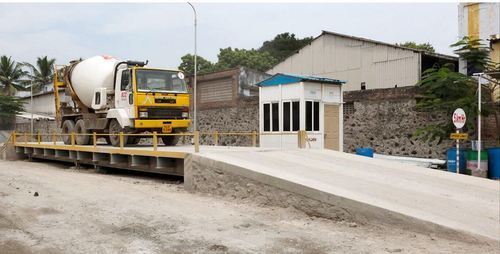 Concrete Weighbridge
Product Description
Assurance of outstanding weighing performance and characterizing spot-on measurement output, our company is regarded as the foremost manufacturer and exporter of the Concrete Weighbridge. These weigh bridges are widely used to weight truck loads in the foundries and construction sites. Manufactured by using supreme grade steel in different capacities, this Concrete Weightbridge is offered to the clients at affordable prices.
The concrete weighbridge deck is the ideal choice. Our concrete decks enable through-puts of bulk materials and are designed to keep maintenance & installation as simple as possible. We can produce 150 Truck Scales per month. Our Truck Weighbridge are available in different capacities ranging from 10 - 150 ton and platform sizes of 2 m x 2 m to 25 m x 6m.
You have an option to choose either a Surface Mounted Scales or a Pit Mounted Concrete Scales, Its depending on the required space availability. The Steel Frame for the Concrete Weighbridge is designed to withstand harsh environmental conditions
Key Features of Concrete Weigh Bridge:
Rust proof finish
Accurate in weight time
Available in Pit-less model designs
Ensures highly durable compared with conventional model/structures
Innovative Orthogonally Isotropic modular design
Designed using NASTRAN and FEA - ANSYS
Modular Concept to offer easy installation, mobility and platform extension
Factory calibrated and build with stringent quality standards
Use of superior quality steel, that ensures stronger load bearing capacity and stronger sectional efficiency
Excellent fabricated, using 410 MPa High Tensile Steel compared to 250 MPa Mild Steel
Extreme levels of corrosion protection, by passing it through shot-blasting and epoxy paint coating levels
Best sectional efficiency and load bearing capacity
Ensures fully welded modules, by using High Tensile welding wires, that offers rigidity to platform
Excellent designed for CLC concentrated load capacity of 40,000 k.g. i.e 20 Tons per Axle
Weighbridges designs and manufacture with stringent quality standards
Creating an excellent quality weighbridges, with use of MIG Welding, Plasma Cutting, Shot Blasting, NDT Testing, Protective Coating and Epoxy Finishing
Our calibration and testing for each system is carried out by a team of well qualified experts prior to market delivers
Application Areas of Concrete Weigh Bridge:
Overload Prevention
Weighing in Foundries
Weighing During Manufacture
Weighing Shipment
Tensioning Cable Controlled
Drag Force Measurement
It has Stage Safety
Helpful for Proof Tests
Helpful for Destruction Tests
Information on Tension Link:
2 years manufacturer warranty.
The distance of Transmission upto 50 meters in outdoor conditions.
Battery levels are monitored as well as displayed on easily readout.
No load cell off/on switch - the ML700 turns on when your remote readout is switched on.
Internal AAA batteries in amount corpuscle gives you 300 hours of continuous weighing use, if not belief it goes to beddy-bye to conserve battery life.
System Information:
Precalibrated at factory. 65,000 centralized counts
Uses Massload acute amount corpuscle technology to ensure accurateness and reliability.
Tension Master Software Features:
Zero, Tare
Peak and Hold, Totalizing modes
Signal and battery level monitoring
Safe load indicator (left side of weight)
Lbs / Kgs, adjustable grad size
Simple calibration procedure
Save unlimited weighings
Download saved data to your PC.
Product details
| | |
| --- | --- |
| Life | 8 to 15 yrs |
| Brand | Essae |
| sizes | 2m x 2m to 25m x 6m |
| Type of Installation | Pit Type |
| Platform size | 7.5m x 3m |
| Material | Mild Steel |