120 Tons Truck Weigh in Motion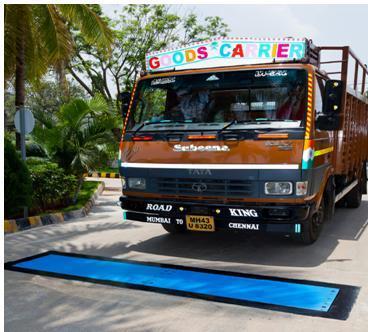 120 Tons Truck Weigh in Motion
Product Description
With our two decades of rich experience, we have marked a distinct position in the industry as a leading manufacturer, exporter and supplier of quality Truck Weigh In Motion. These are manufactured under the supervision of our highly knowledgeable team using premier grade materials procured from well-known vendors of the industry. Our weigh in motions are used in capturing and recording axle weight and gross weight of the vehicles. Furthermore, our quality departments check these on various parameters of quality to ensure flawless finish. Offered Truck Weigh In Motions are available in various technical specifications and at affordable prices.
Essae Truck Weigh in motion System (TWIM) is a reliable, robust, maintenance-free weighing mechanism designed to be used on highway entries with non-stop heavy traffic. Weighing accuracy and performance are approved for law enforcement purposes and trade use.
Essae TWIM system provides significant cost savings over full-platform and axle scales when speed is critical and vehicle weighing is an integral part of the operation. The vehicle loads (wheel, axle, GVW, load ratios) are automatically analysed and results are displayed on operators PC monitor, the driver gets the corresponding printout and the data are also recorded for further reporting or can be sent via Internet. This results in minimum operators mistakes, offers inbuilt data protection and allows vehicle to put upto 180 vehicles per hour.
key Features of Truck Weigh In Motion:
Extensively demanded due to high level of accuracy
Negligible maintenance and longer operational life
Easy installation over all kinds of terrains
Rugged design for load-bearing capacity and maximize Operational Productivity
Installation, design, installation, manufacturing and after-sales support over 86 locations in the country
Reducing the installation costs and video camera for vehicle detection
It is designed to take maximum load of 40 to 50 ton per axle.
An extremely important investment at check posts, octroi nakas, and transport department to detect overload of the vehicles.
When any vehicle passes over the platform, the individual axle weight, the number of axles and the total weight of the vehicle are detected.
Its construction significantly improves scale reliability in heavy-duty operation
Further Details:
Our truck weigh in motion determines the weight of vehicle while it is moving. It also gathers traffic volumes through vehicle weight and categorization. The information also comprise time, speed, date, vehicle extent by axle spacing and weight of the axle. There are two kinds of WIM apparatus utilized including piezo and bending plate.
TPP utilized curving plat WIM tool to gather information up to 15 locations and do survey two days during each quarter of a year. Information is gained from all running locations annually for future acknowledgment. The numerical term of WIM sited for which information is accessible ranges each year because of road conditions, road WIM hardware and construction
Close Coupled Axles:
The platform is fabricated to have every amalgamations of axles.
Tandem, tri and sinel-axle combinations are simple weighed due to the electronics, which can computed the weigh of every sole axle.
Copmpact coupled axles with air or spring suspension are not troubles to the weighbridge that will have independent axles up to 30 ton each
Law Imposition:
A array of computer software and indicators is obtainable for EAGLE Axle that permit regime to select the optimum system for their imposition requirements.
The Axle is specially suitable to where conformity with civil law is essential as over-speed loads are mechanically perceived so that transports cannot be given with wrong weighing tickets.
Specific importance is set on product consistency and endurance, so the company can manage its every design and fabricate to hold back the necessary elevated status of quality regulation.
Product details
| | |
| --- | --- |
| Accuracy | +/-1% to +/-2 |
| Size | 845 mm * 3275 mm (Outer Dimension) |
| Material | Mild Steel |
| Weighing Capacity | 120 tons |
| Type of Installation | Pit Type |
| Communication Options | GSM/ GPRS, RS232, TCP/IP Wi fi |
| Cables | 4 core shielded with SS Armor protection |